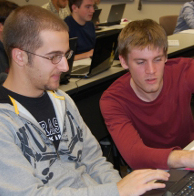 Welcome to MTH 141 - Calculus 1
We hope you will enjoy this Calculus class, learn a great deal about calculus and its applications, and get inspired to know more.
Prof. Orlando Merino, Coordinator of MTH 141
REMINDER
To be in MTH 141 you need to have a C- or better in PreCalculus, or pass a placement exam at the required level for MTH 141. Please see www.math.uri.edu/placement for details.
PERMISSION NUMBERS
If you need a permission number to register for MTH141 go HERE.