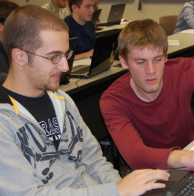 Welcome to MTH 141 - Introductory Calculus
We hope you will enjoy this Calculus class. We instructors will do our best to offer an excellent course. Please let us know if you have any questions.
Prof. Orlando Merino, Coordinator of MTH 141
REMINDER
To be in MTH 141 you need to have a C- or better in PreCalculus, or pass a placement exam at the required level for MTH 141. Please see www.math.uri.edu/placement for details.
PERMISSION NUMBERS
If you need a permission number to register for MTH141 go HERE.